Machine only, no accessories
Regular price
$2,399.99 USD
Sale price
$999.00
Unit price
per
Sale
Sold out
The Inogen One G3 is an HME provider POC of choice due to its five flow settings, which give the G3 unsurpassed pulse dosed oxygen delivery while being lightweight, portable and quiet. The G3 comes equipped with a single battery capable of offering up to 4.7 hours of battery duration or an optional double battery capable of providing up to 10 hours of battery life. The G3 offers your customers a single solution that adapts to their growing oxygen needs over time while keeping your maintenance costs low.
Specifications
Manufacturer:
Inogen/OxyGo
Oxygen Flow:
Pulse dose delivery system Five flow settings: 1 – 5
Weight:
2,19 kg. (4.8 lbs.) (includes single battery)
Size:
Length: 22,2 cm. (8.75 in.) Width: 7,6 cm. (3.0 in.) Height: 21 cm. (8.25 in.) (includes single battery)
Noise Level
39 dBA*
Battery
Single Battery up to 4.7 hours Double Battery up to 10 hours
Power
AC Power Supply 100-240V, 50-60Hz (auto sensing to allow worldwide use). DC Power Cable: for mobile use.
Operation
Simple control functions and easy-to-read LCD display.
G3 Machine Manual
G3 Machine Column replacement guide
View full details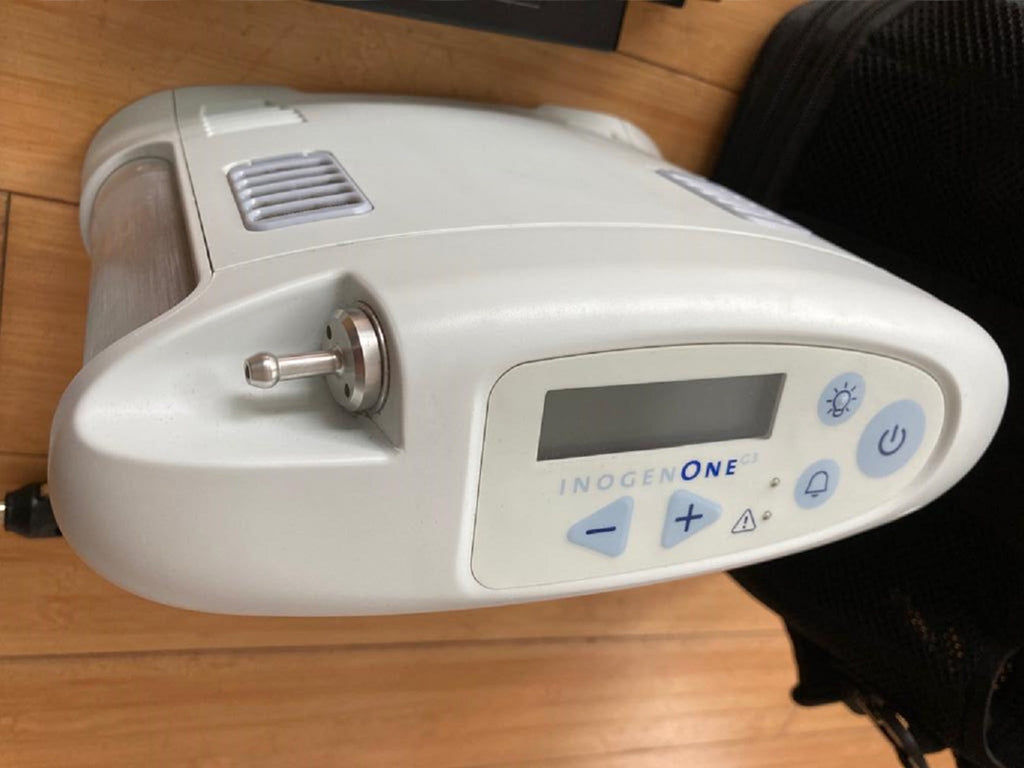 Add-ons and Replacement Supplies
Inogen One G3/OxyGo
Portable oxygen concentrators have really become the need of the era. There has been a high demand in Covid-19 patients who have wanted and/or required a portable oxygen concentrator to get through the upper respiratory pandemic illness. Users with COPD also require portable oxygen concentrators. Research states that there are 1.5 million users of portable oxygen in the US. However, buying a new portable oxygen concentrator can be quite expensive, especially if your insurance doesn't cover the cost of the poc. Unfortunately today, most insurances don't cover the cost for portable oxygen but only for in home units that weigh a ton and make it super difficult to perform daily tasks and activities. That's where we come in! Buying a used Inogen-Oxygo g3 can be just as effective as buying a completely brand new portable oxygen machine from a manufacturer if bought carefully. You need to make sure that your used oxygen concentrator is in good working condition and all its components are functioning properly. Our team of experts diligently test and repair all machines so whichever model you choose, you will be able to purchase with a peace of mind knowing that your new portable oxygen concentrator is functioning at 100% and that you wont have to spend money on maintenance in the future. Our used Inogen-Oxygo g3's are ideal for those peole who are looking for a more afforadble alternative to getting a completely brand new oxygen concentrator.
Advantages of getting a used oxygen concentrator:
There are multiple advantages of getting a used portable oxygen concentrator as opposed to a new one. New portable oxygen concentrators can be very expensive. The machines we offer are like new with very low hours and are about half the price and will provide you high-quality performance and service. All parts are cleaned thoroughly and tested by our experts to ensure the highest level of operation. We also provide all the appropriate accessories as if you were buying new, that include the portable oxygen concentrator, very nice carrying case with a shoulder strap, home and car charger, one single 8-cell battery, and a nose cannula. Please let us know if you want/need extra accessories as backup. We highly recommend having an extra battery for emergency purposes.
Why choose our device?
As I mentioned above all of our devices are personally and medically tested to make sure that they are of the highest quality to you. We also have a huge variety of products available to choose from with different features and warranty options. Our customer service is happy to connect with you over the phone personally and help you step by step, asking all the right questions as well as offering all the knowledge you need to know, moving forward picking out your next portable oxygen concentrator