Package includes low hours concentrator, one single battery, one home & car charger, Carry case
Regular price
$2,585.00 USD
Sale price
$1,650.00
Unit price
per
Sale
Sold out
The Inogen One G5 offers the most oxygen per pound for a portable oxygen concentrator on the market today. With its compact and lightweight design, the Inogen One G5 provides varying flow settings from 1-6 and is designed for 24-hour use, dramatically increasing your patients' independence. This POC's user interface has been designed with easy-to-read LCD displays and simple control functions..
Specifications
Manufacturer:
Inogen/OxyGo
Oxygen Flow:
Pulse dose delivery system Six flow settings: 1-6
Weight:
2.16 kg. (4.7 lbs.) (includes single battery)
Size:
Length: 18.26 cm. (7.19 in.)
Noise Level
38 dBA*
Battery
Single Battery up to 6.5 hours Double Battery up to 13 hours
Power
AC Power Supply 100-240V, 50-60Hz (auto sensing to allow worldwide use). DC Power Cable: for mobile use.
Operation
Simple control functions and easy-to-read LCD display.
G5 Machine Manual
G5 Machine Column replacement guide
View full details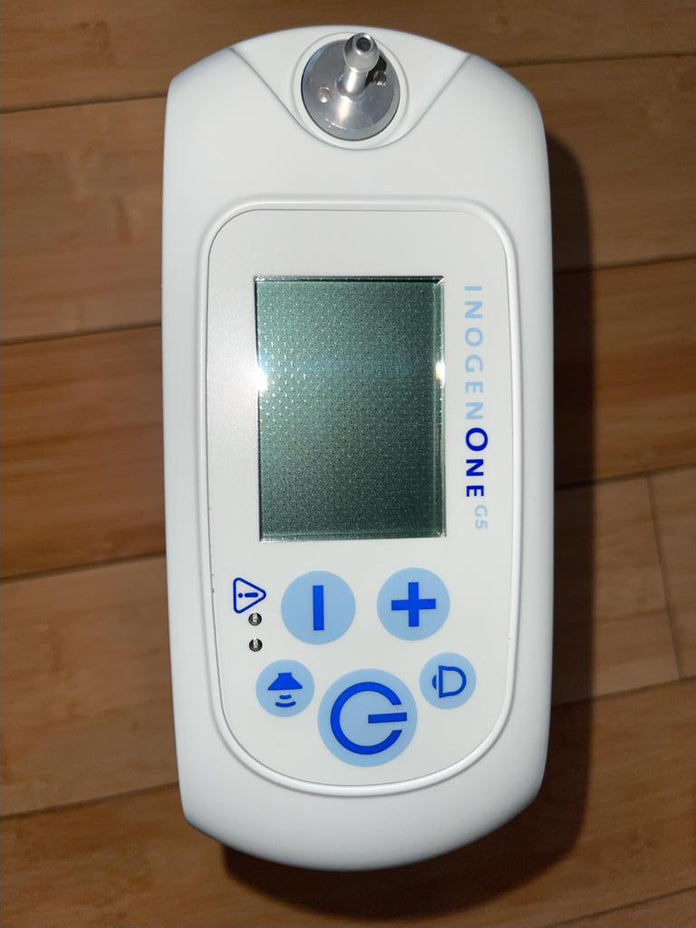 Add-ons and Replacement Supplies
Inogen G5/OxyGo NEXT
Are you planning on purchasing a used portable oxygen concentrator and unsure of which model to choose from? The Inogen- Used Oxygonext G5 is probably the best solution for you. It is without doubt one of the most reliable portable oxygen concentrators you can buy today.
Why is Inogen-Oxygonext G5 the right product for you?
The Inogen-Oxygonext G5 is the newest and latest addition for portable oxygen in the market today. This specific model delivers oxygen via pulse up to 6 liters per minute, guaranteeing to meet your needs on a regular basis, but also allowing you to crank it up an extra liter when out and about, or doing physical activities. This latest technology allows the device to adjust to the user's relaxed breathing so you are able to use this portable oxygen concentrator at night while you sleep. The Inogen- used oxygo G5 concentrator comes with one 8-cell single battery. All users are eligible to upgrade to our 16-cell double battery if needed. Whatever you need, we got you covered.
How to pick the perfect used inogen g5 for yourself?
Most patients have to purchase their portable oxygen concentrator online as there are not many physical stores that you can walk into and get a consultation. If you are a patient with a prescription, this step will be easy for you, but if you are unaware, or unsure our website makes it super easy to navigate, and it explains in depth all the information and descriptions of our products included with pictures. Before you make a purchase we ask that you have a clear idea of what you need, the products we offer, a full understanding of our price points, and that you make sure the product is completely up to your standards. If you have any questions or concerns, or need help choosing the right poc for you, we are happy to connect with you and answer any questions you may have. Our team of experts will personally get to know you, and ask you all the questions needed to help choose which model is right for you.